We recently visited Yellowstone National Park. I had never been close and I was eager to see what was there. The park has many, many geysers and is actually a super volcano. The following is a description of a super volcano status of Yellowstone and a photo of one of the more colorful sights not far from Old Faithful Inn.


Hot spots and geysers represent just a fraction of the action beneath the surface at Yellowstone. The whole park is actually a
supervolcano
, although it's not supposed to erupt anytime soon. But, how do we know this? Despite the
warnings
, Yellowstone is quite safe: Its
supervolcano
is made up of two magma chambers. The first chamber contains no more than 15% molten. Meanwhile, the second chamber contains only two percent molten.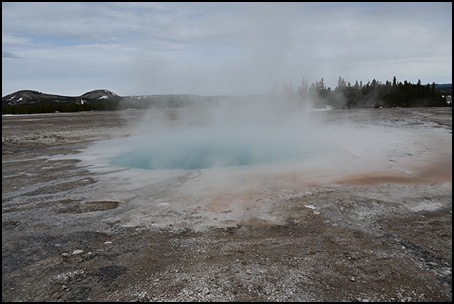 Last October, we drove to South Dakota. On our way back to the Pacific Northwest, we took a side trip up into Northeast Wyoming to drive by Devils Tower. It was a geographical sight featured in the movie,

Close Encounters of the Third Kind.


I came across a site that describes how such sights came by their name. This is what is listed for Devils Tower.
Devils Tower
is an impressive rock formation that stands 867 feet high above the Black Hills of northwestern Wyoming, considered sacred by Indigenous cultures. When settlers first arrived in this part of the country, the rock was labeled on maps as "Bear Lodge," a translation for the common Lakota name Mato Tipila. However, the name changed when Colonel Richard Irving Dodge led a geology and mapmaking expedition to the site.
Dodge wrote
that the Indigenous people called the place "bad god's tower," which eventually led to the adoption of the name Devils Tower. However, this is believed to be a bad translation, as no records have ever shown that Native Americans considered the tower to be associated with evil spirits.