I have often pondered what makes those who live in big cities tend to have a tribal or herd mentality different from those who live in suburbs or rural areas. What makes those who live in the Portland environs take in the "smug" behavior so they believe they are better than the rest of the people in the state. Here are a couple of articles, one on the
Curley Effect
and the other dealing more specifically with the
urban/non-urban divide
that have been in Forbes magazine. I don't know if it totally addresses why well off "yuppies" seem to gather in Oregon's cities with their young families. I think they like to live by others who "validate" their mind-set.
Waking up at the Shilo Inn near the Portland Airport, it is hard to believe that our wake up call yesterday was in Bangor Maine. It was a bright hot day in the Northeast yesterday, though not muggy. The weather in Boston was similar to what we would find in the Willamette Valley in Oregon.
Maine Lake near Bar Harbor

We found the airport facilities quickly and got the rental car returned. The Alaska Airlines gate area was comfortable and there were electrical outlets available for the intrepid. A view from Boston harbor to Logan International airport as planes line up.
The flight was uneventful and we had a beautiful view of Mt. Jefferson and Mt. Hood as they lined up down the Cascades on our approach into Portland. The Thayers were tired so staying the night at the Shilo Inn made sense. Now on to home and our family and animals.
The Thayer Farm
11/07/12 04:49 Filed in:
Travel
It is back to Boston day today. Our flight leaves around 5 p.m. and we will need to turn the rental car in. It has been a memorable trip and one I would love to do again. The gentleman seating us for breakfast said he would often take his children to PEI for camping on the beaches. It would be a great vacation place for Maine folks with kids. I want to show recognition here for our trip from the start until we left PEI.
Boston Harbor and city,
June 26.
And memories of the culture of Nova Scotia and PEI, a demonstration of drumming at the Piping School.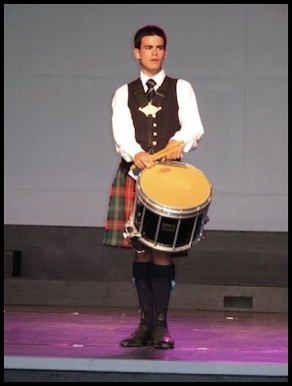 To the colorful countryside, fields, and water of Prince Edward Island on July 9.