10/07/12 13:51 Filed in:
Travel
Yesterday was the main day we had to get a small taste of Prince Edward Island. We got around early and headed north from Charlottetown for the Central Coast route. The main goal for part of the day was for me to visit Cavendish. This is the town where Lucy Maud Montgomery, author of the
Anne of Green Gables
series of books, lived until she was 37. The area and her life experiences gave her the background to create the charming girl, Anne, of the red braids and straw hat. The books were my lodestone for reading when I was young and instilled in me my hunger for reading. As an only child, I could grab onto and absorb the concept of "kindred spirits". How special to be able to see something that has had such an impact on your life. We first visited the grounds and remaining real homestead where she lived with her grandparents. LMM's grandnephew and his wife still manage the site and gave a lovely description of the area and her life. About 1 mile away, the visitor's centre for the Green Gables historic site covers the house of LMM's great uncle where she would spend a lot of time and also
influenced in her writing.
We continued around the central coast route and stopped by French River. The countryside is striking because you have a mix of the fishing industry, small communities, and the farm crops. French River is a great example of the colors noted on PEI.
Another spot we stopped at was St. Mary's Church at Indian River. They will hold festivals and concerts at this church. We met a couple who had been married there and heard some of the history. It had been a Catholic Church and in recent years has changed to another denomination. The spire has the 12 Apostles located around the outside.
Our final destination of the day was our B and B in Summerside called
Island Home
. Summerside is a popular destination on the south coast and a great central location to visit PEI. Our host, Pat, was helpful in suggesting a place for dinner and things to do. He also mades a very good breakfast.
While we waited to check in, we stopped in to the College of Piping and went to a free concert they had at 3:30 pm. The young instructors demonstrated piping, drumming, and dance steps. It is great to see institutions developed to keep these traditions going.
In the evening, we headed over to Kensington which is about 8 miles away to eat dinner and attend a Ceilidh at a local church. The group was called T
he Long River Players
and is made up of 2 men and 2 women with outside help from a step-dancer and their sound lady who plays keyboard. It was a foot-stomping, hand-clapping good time with the group. A very nice way to spend the evening.
Today started off early with a 7 a.m. departure to Cape Breton Island. Our goal was to make the 11:30 a.m. Cailidh in Judique at the Celtic Music Cultural Centre. Both of us love Celtic music and have many albums. This area is the birthplace of Natalie MacMaster, Ashley MacIsaac, and the Rankins for just a small number.
We made the Cailidh with a little time to spare.
"Failte" (fell-cha)
greets us as we enter.
"Failte"
is "
Welcome"
in Gaelic. The Director of the Centre is Kinnon Beaton and he will play the fiddle for about one hour over the lunch period. We listen to music while eating a lovely seafood chowder full of scallops, crab, and lobster which is then topped off with a bread pudding with caramel sauce. The music is toe-tapping wonderful and we got some video of the different songs played. Here is Kinnon Beaton with Dewars playing piano. We even had an example of
"Close to the Ground"
Cape Breton step dancing.
They have an exhibit area at the Centre where one can learn about jigs, reels, slow airs, and Strathspeys. They even have video to show you how to play a few notes of the fiddle and to do step dancing too.
We headed on further up the left coast of Cape Breton to our destination of St. Joseph du Moine, just south of Cheticamp. Our B and B is the Pilot Whale at St. Joseph. Not far from there, Bob saw a Bald Eagle just off the road and he was able to get a few photos of this magnificent bird. (A host at our B and B stated a moose was spotted a few days ago in a local bog. Not a common sight if you go looking for them).
We headed into Cheticamp for dinner time. The outstanding structure is the Catholic church of Eglise Saint-Pierre. It had an beautiful interior as the other churches we saw on the Acadian coast.
Eglise Saint-Pierre at Cheticamp N.S.
Shortly after visiting the church, we drove out to the lighthouse at the entrance to the Cheticamp harbour. It is active and the light was going for all boats and ships at sea.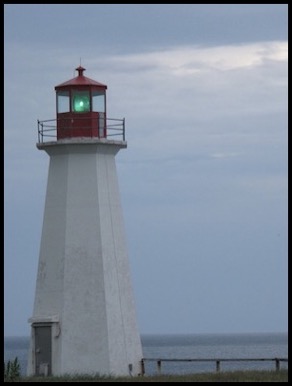 It is fascinating as we travel across Nova Scotia. There are areas of more English influence such as near Halifax. As we traveled into the Cailidh Trail such as with Judique and Mabou, the signs are in English with Gaelic underneath. In the areas where the Acadians are more present, such as in Cheticamp, Grand Pre, and Saint Bernard, all the signs are first in French, then in English (the reverse is true in other areas of Canada). What an interesting culture and impact they have on their surrounding communities.