July 2 was a very pleasant day of sightseeing. We drove west and south to visit the Bear River community. It is developing into a wine area and we stopped at Annapolis Highlands winery. They have a Pinot Gris that is good and different from a Pinot Gris made in the West of the United States. It is a bit more tart, less sweet than an Oregon wine. After a great lunch at My Dream Cafe on the Bear River (and it is on, since part of it is on stilts in the river), we drove down the Acadian coast.
One pretty stop was the Gilbert Cove Lighthouse on the way to St. Bernard's. It was interesting because we watch a seagull harass a Bald Eagle near the lightlhouse.
St. Bernard's has the largest stone church in North America. It is very large and impressive from a distance. While visiting, a young Acadian girl came to see her brother at the church and started practicing her violin. I got 2 great clips of her playing. It was very special and she was lovely and very good at her craft. The church is renowned for its acoustics and many international artists have played there. I would say the acoustics are special.
Eglise' St. Bernard
About 5-7 miles further down the road is another large wooden church at Church Point. This is a very unique church with many wonderful stained glass windows. It has a wonderful story and the interior walls are lined with canvas. The following is an example of the church and then its stained glass.
Eglise' Saint Marie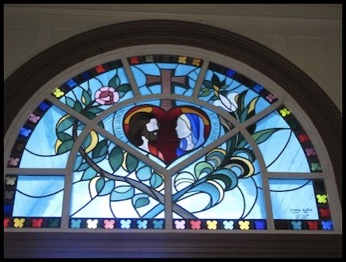 One of the 20 odd stained glass windows.
Last but not least, the full moon over the Annapolis River at high tide. What a beautiful sight!