Compared to yesterday, the morning was sunny overall with high clouds. It was a gorgeous summer day and great weather to spend part of the day visiting the might Louisbourg Fortress. The original was destroyed by Wolfe in about 1760. Canada restored a period reproduction fortress in 1969 that currently covers about 20% of the area of the original. Considering how large this fortress is with its many buildings, the original site must have been huge! The Park Service has many people dressed in period costumes around the fort to allow visitors to see how the people lived and worked in that day. The fort was originally built by the French and was the largest fortress offering protection on the East Coast in its day. The French traded all over the area and worked with the native people, the Mi'kwaw. It was captured twice by the British until it was destroyed as mentioned before.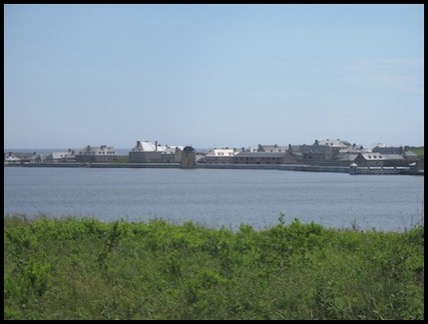 Louisbourg Fortress and buildings
As mentioned, there were a number of people greeting visitors while in period costume. Women in clogs, white hats, and dress aprons. Children in similar costume. Men in military uniforms or in work clothing of the times. One interesting piece was when they were driving 3 geese around the streets plus leading a ewe and lamb for a "celebrity TV cook" named Allen Cox(ey)?, possibly of BBC showings. He had a man filming the animals which from what I was told.......... the geese were old and probably would not have tasted very good. At least it wasn't Gordon Ramsey, who would have screamed at everyone.
And the women..........
In the afternoon, we drove northeast to Glace Bay. It is the site of Marconi's first transmission of wireless sound across the Atlantic to a site in Cornwall. The first step to our use of cell phones! A wonderful story of his struggles to accomplish this is in the book,
"Thunderstruck",
by Erik Larsen. It was only a 30 minute tour of the museum yet it was special to me because of this book. They have a gentleman in the museum most days sending out wireless Ham radio signals and Morse Code across the world. We have come a long way in 110 years.
Table Head at Glace Bay, N.S.
Right after this visit, we went to the Miner's Museum. We did not take the tour, though you can go down into a coal mine next to the sea. This area was the first coal mining done in North America. It was an interesting history. Unfortunately, the government felt that coal mining did not pay for itself and the mines were overall shut down by the 1990's. There are still about 3000 miners in the area, down from about 12,000.