29/11/12 16:15 Filed in:
Family
Part of the plan from the holidays was to show some additional photos taken on Thanksgiving.
David's nephew, Nathan Lewis, is such a good photographic subject. Here he is, waiting for his part of the Thanksgiving meal. In the end, I think he wanted to play more around the house than he wanted any part of the good food.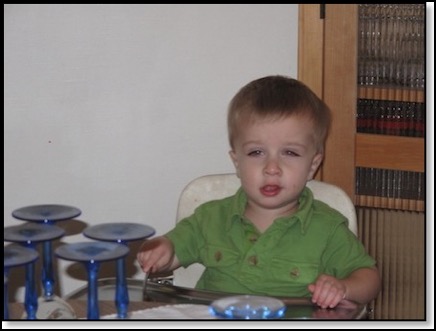 22/11/12 20:48 Filed in:
Family
We spent the morning making hot homemade dinner rolls for the Thanksgiving get together. There was also an interesting recipe to make an apple-cranberry cobbler. So I put it together to take for the meal. It probably was not needed since there were 2 pumpkin, 1 pecan, 1 French Silk chocolate, and 1 lemon meringue pies for dessert. The cobbler still tasted great and was something different to bake. The pecan pie was very good and I had not had that kind of pie for a very long time. I truly cannot like or handle being around lemon meringue pie, one of my least favorite foods.
It was special to get together with others for Thanksgiving. The first time in several years where I did not do the meal at home. It really was a strange feeling to not be responsible for a whole production……..lightening the load though those leftovers are nice to have handy for other meals. This is the first year shared with a new daughter-in-law and grandson. Just part of being thankful on this holiday. David and Renee here just before the sitting down to dinner.